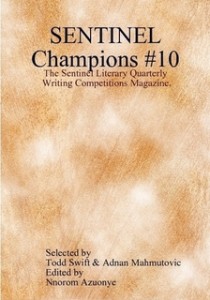 Look out for New Short Story competitions at Sentinel Literary Quarterly, including the African Prisons Project competition judged by Alison Lock and the Quarterly Short Story competition judged by me.
SENTINEL NIGERIA ALL-AFRICA SHORT STORY COMPETITION 2013
Closing Date: 28-Feb-2013
Theme: Open
Length: 1500 words maximum (Excluding title)
Prizes: N35,000 (1st), N20,000 (2nd), N10,000 (3rd), N4000 x 3 (High Commendation).
Fees: N450 / £2.50 per story
Publication: Yes. In Sentinel Nigeria Magazine
Judge: Judge Dibia
SENTINEL LITERARY QUARTERLY SHORT STORY COMPETITION
Judge: KATE HORSLEY
Closing March 31, 2013
Prizes: £150, £75, £50, and 3 x £10
Publication: In Sentinel Literary Quarterly Magazine.
Fees: £5 per story, £8/2, £10/3, £12/4
AFRICAN PRISONS PROJECT SHORT STORY COMPETITION 2013
Judge: ALISON LOCK
Closing Date: 20th March 2013
Prizes: £100, £50, £30, £10 x 2 + publication in Excel for Charity News Blog
Entry Fees: £5/1, £8/2, £10/3, £12/4 (Enter as many stories as you wish)